I bought Wahoo (not her official name....yet) back in July of '07. Since that time she has been sitting out in the elements behind the garage in the back yard. I've kept a series of blue tarps on her to protect her from well, mostly rain, as every drop that hits her top pretty much ends up in the cabin.
Let me state that while these blue tarps are really great and have kept Wahoo dry and mostly protected for months, the Louisiana sun and heat really eats them up quickly. You can get about a month of use before microscopic (and some not so small) tears begin to appear anywhere the tarp has been stretched.
And the worse thing about the tarps is you have to remove them all before you can really start working on the boat. And then, of course, put the tarps back on and secure them when you're done. It's a lengthy process. And one that while a pain in the butt, has kept Wahoo nice and dry.
So, I've been pondering what to do about some more permanent shelter for Wahoo as we go through the long process of complete sailboat restoration. Enter Tractor Supply. Minden just got a Tractor Supply. --Those of you not from Minden, or familiar with it, can't possibly fathom how great this is.-- Well, Tractor Supply has a portable canopy for about $89. And as an accessory you can get 4 walls and auger-type stakes to help hold it down.
So, yesterday Mom and I started construction on said canopy/garage. It took a few hours and there were a few moments of great frustration, but it all went up nicely, and with just the two of us to construct it.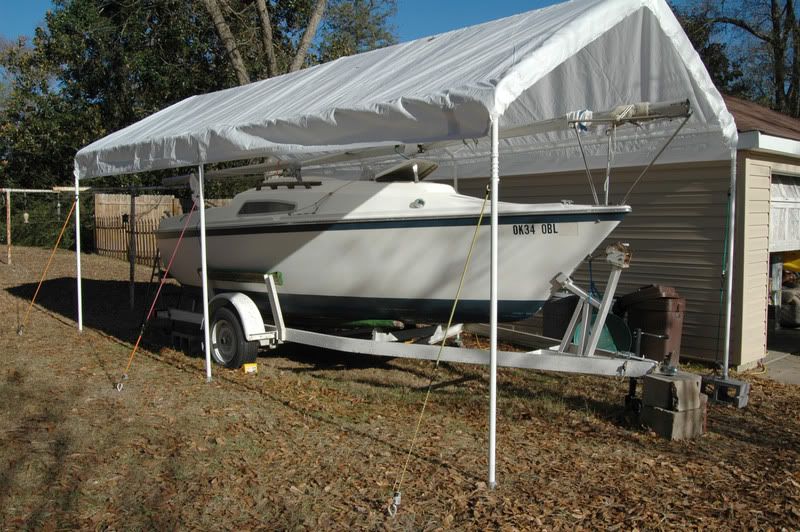 And from the side...
And completely enclosed....
I think the neighbors will appreciate the new look...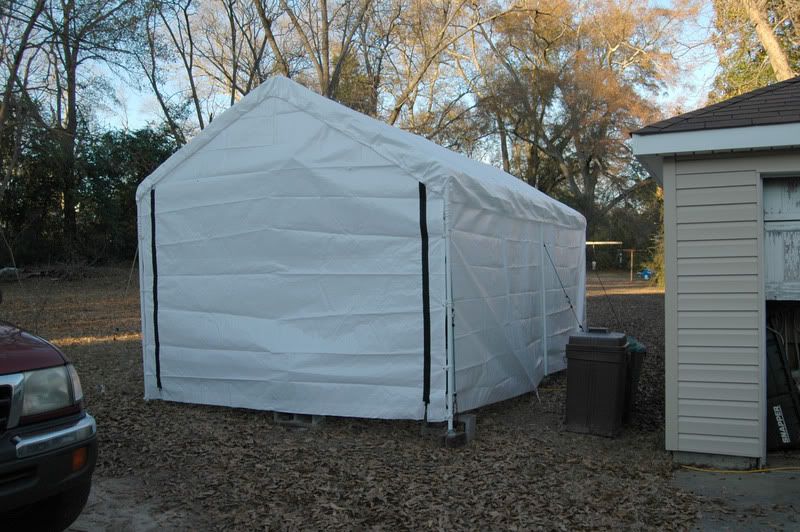 Doesn't she look all nice and protected? I don't know this for sure, but I suspect this is the first covered shelter my poor little boat has ever had. S'okay little Wahoo....it's all better now.
This should make a huge difference in pretty much everything Wahoo-related.