Got my epoxy and 3M 5200 in. Before I was ready to start repairs we had to remove the last bits of silicone from the joint and clean with acetone. There were two spots on the joint where the PO (previous owner) actually used the proper product. Two beads of 3M 5200 were in the joint mid-point on both sides. There is a reason you use 5200 - it works and lasts a long time. This makes it hard to remove though. Thanks to the Laguna newsgroup, I knew just what to use....a hairdryer. Heat it up for a minute and that stuff comes right out. Cool.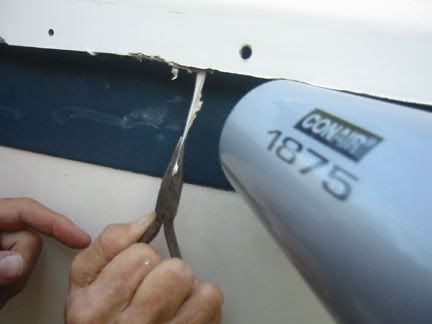 Next, we sanded and grinded the bad spots on the deck joint where the paint has been chipped exposing fiberglass. The Dremel made quick work of this. The Dremel rocks!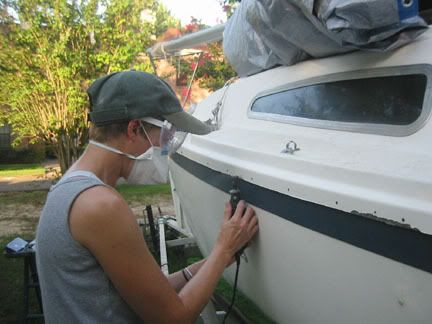 All that protective gear doesn't make things cooler.
After that was all done we were ready to get to actual repairs and seal the hull-to-deck joint. Unfortunately, the ideal temperature for my materials is approx. 70 degrees. Yeah, it's like NEVER 70 degrees here. Today it's 106. So, it's much too hot to epoxy, and my boat's deck is not attached to the hull right now, just gravity and some nails keeping things together. The nails are working great though (thanks Ronnie).
While we wait for it to cool a bit we got a lot of cleaning done. Finally, you can't smell the boat before you get to it. Actually, you can barely smell that old neglected boat smell at all. :)
Mom does some cleaning work.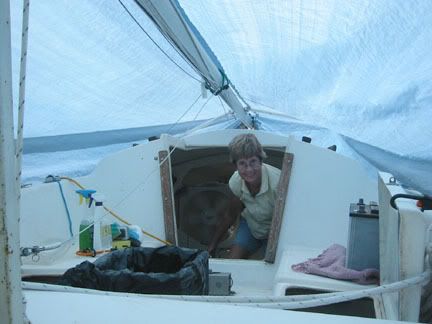 What a difference it makes! It's like a completely different boat.
It was a productive Saturday, but we weren't EVEN done yet. My man Dan, the master of all things electrical, came by to check out Wahoo's electrical system. He brought a spare battery by and hooked everything up. Nothing. Check the polarity......and...
Little Wahoo has power!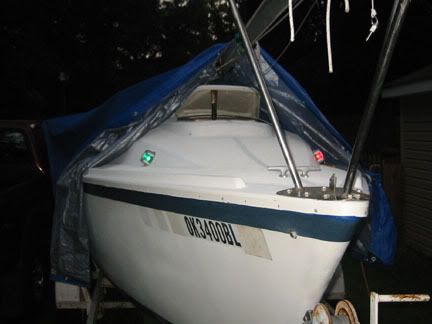 Isn't she a pretty sight with her nav lights on? :) She looks like she's smiling.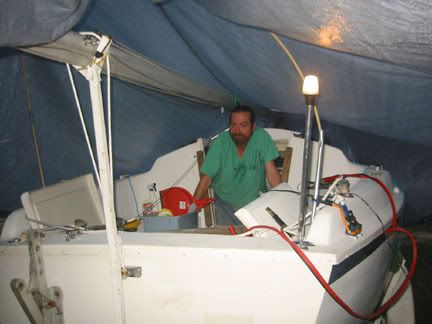 Thanks Dan! And look, the rear nav light works too!
All the electrical stuff works (bilge pump, anchor light, nav lights, fans) except for the cassette deck, which only needs a fuse. This is so great. I was certain all the electrical stuff was shot - you have to lower all your expectations when working on something this old, as you constantly find more stuff that needs fixing. So it was a very nice surprise to find something worked without us having to work.
Sunday was a lot more cleaning - and we removed the old foam flotation. Goodbye forever nasty old styrofoam.
Despite the heat, it was a productive weekend. :)